BOTTEGA BERLIN PRODUCTIONS
Bottega Berlin Productions was founded by the director, producer and art historian Dr. Frauke Schlieckau.
FOUNDER & CREATIVE DIRECTOR
Frauke Schlieckau has been working in the cultural editorial department of  a large Berlin-based production company since 2013, most recently as editor-in-chief for Arte's european cultural magazine Metropolis. During this time she produced about one hundred art and cultural short films, music formats and documentaries for clients such as Arte, ZDF, ARD, 3Sat and Swiss Television.
She used to work as a cultural editor at the Second German Television ZDF where she worked on the the literary programme "Das blaue Sofa" amongst others. During this time, she moderated the series with the likes of Ken Follett or Donna Leon for the ZDF / 3Sat specials The Blue Sofa and The Long Night of the Blue Sofa at the book fairs in Frankfurt and Leipzig.
As a presenter she also worked for the daily live performance lettra! Die Show, created by the premiere literature broadcaster lettra. In addition, she moderated the nationwide broadcasts GIGA Heartbeat and GIGA Hamburg on NBC GIGA, NBC Europe's interactive youth station that was awarded with the Grimme Online Award.
As a creative director, lead editor and freelance author, Frauke Schlieckau worked for numerous well-known clients in the corporate content sector and wrote several travel books for major German publishing houses.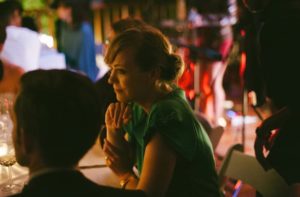 Interviews (selection):
Culture: Willem Dafoe, Isabella Rossellini, Siri Hustvedt, Wim Wenders, Liam Gallagher, Mary J. Blige, Jamie Hince & Alison Mosshart, Moderat, Bob Geldof, Ebony Bones, Eric Burdon, Jonathan Safran Foer, Jérôme Bel, Sharon Eyal, Adam Green, August Diehl, Naomi Klein
Art: Ai Weiwei, Olafur Eliasson, Katharina Grosse, Elmgreen & Dragset, Oda Jaune, Douglas Gordon, Germano Celant, Ragnar Kjartansson, Michael Armitage, El Anatsui, Harland Miller, Yinka Shonibare, Massimiliano Gioni, Ralph Rugoff, Michelangelo Pistoletto, Neil Beloufa, Pamela Rosenkranz
Filmography:
Documentaries:
Forever Bicycle. The bicycle in art and pop culture. 26 min. Arte, 2018
Mensch. Herbert. A film with Herbert Grönemeyer by Hannes Rossacher and Frauke Schlieckau. 56 min. Arte, 2016
In search of happiness (1). A film by and with Wolfgang Herles. 45 min. ZDF, 2012
In search of happiness (2). A film by and with Wolfgang Herles. 45 min. ZDF, 2012
Reports (selection):
Arte Re: The pleasure of flesh. Europe's butcher revival. A film by Frauke Schlieckau and Lutz Ehrlich. 30 min. Arte, 2017
Short Documentaries (selection):
Metropolis Report Turin: Visiting Italy's capital of contemporary art. Arte Metropolis
Metropolis Report Athens: The Greek capital in front of the Documenta. Arte Metropolis
Metropolis Report London: Following William Shakespeare's footprints. Arte Metropolis
Metropolis Report Naples: Culture professionals fight against the Mafia. Arte Metropolis
Metropolis Report Milan: Is the Lombard capital ready for the Expo? Arte Metropolis
Metropolis Report Lisbon: With art from the crisis. Arte Metropolis
Short films:
Siri Hustvedt and Katharina Grosse on the significance of women in art. Arte Metropolis
Portrait of Douglas Gordon. 3Sat Kulturpalast
Ai Weiwei and "The Human Flow". 3 Sat Kulturpalast
Portrait Liam Gallagher. 3Sat Kulturpalast
Hard Stop. Arte Tracks
Portrait Francesco Vezzoli. Deutsche Welle
Portrait Elmgreen & Dragset. Deutsche Welle
On tour with the Peaceboat. Arte Yourope
Free holidays in Europe. ZDF Today in Europe
Obituary to Michael Jackon. ZDF Aspekte
The Bauhaus in Tel Aviv. Swiss Television
Concert formats (selection):
Berlin Live with Eric Burdon, The Kills, Bob Geldof, Texas, Moderat, Suzanne Vega, Stereophonics, Kaiser Chiefs, Block Party, MGMT, Patrice and many more. Arte
The Arte Lounge from the European Parliament in Strasbourg. Arte