BOTTEGA BERLIN PRODUCTIONS
Bottega Berlin Productions produces television documentaries and journalistic content about the international art and culture sector. With high aesthetic standards, depth and a love of language, we report on topics that concern artists and creative people worldwide. Our focus is on Constructive Journalism. That means we critically examine but love to tell our stories from a solution-oriented, positive perspective.
Bottega Berlin Productions creates high-end content for the arts and cultural sector. We help institutions, galleries and museums to make the work of their artists, their projects and exhibitions visible. We provide visually high-quality documentation and journalistically prepared content that can be made available to both, the general public and the media.
Bottega Berlin Productions brings culture and business together. We support companies in finding art and cultural projects that are particularly suited to them, develop concepts for meaningful cultural promotion together with them and document their cultural commitment. We help to ensure that even companies from industries that are not involved in culture can develop and ideally position themselves through their cultural commitment.
Bottega Berlin Productions has a sincere interest in the ideas and visions of the artists and creative people, partners and clients with whom we work. We give them our full attention. This has enabled us to build up an extensive network of cultural and media professionals who enjoy working with us.
Bottega Berlin Productions practices New Work. This means that we work flexibly, transparently, sustainably and at eye level with our colleagues. In order to achieve this, for each assignment we team up with the people who best fit the project. This makes it possible to offer high quality results at fair working conditions and good prices.
Projects can be commissioned as part of a larger communications strategy or as on-off pieces. Please just get in touch with Frauke Schlieckau to discuss your needs and requirements.
FOUNDER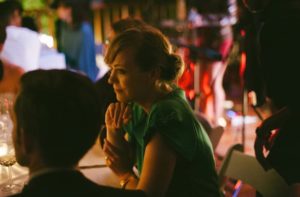 Bottega Berlin Productions was founded by the journalist and director Dr. Frauke Schlieckau.
Frauke Schlieckau has been working in the cultural editorial department of  a large Berlin-based production company since 2013, most recently as editor-in-chief for Arte's european cultural magazine Metropolis. During this time she produced about one hundred art and cultural short films, music formats and documentaries for clients such as Arte, ZDF, ARD, 3Sat and Swiss Television.
She used to work as a cultural editor at the Second German Television ZDF where she worked on the the literary programme "Das blaue Sofa" amongst others. During this time, she moderated the series with the likes of Ken Follett or Donna Leon for the ZDF / 3Sat specials The Blue Sofa and The Long Night of the Blue Sofa at the book fairs in Frankfurt and Leipzig.
As a presenter she also worked for the daily live performance lettra! Die Show, created by the premiere literature broadcaster lettra. In addition, she moderated the nationwide broadcasts GIGA Heartbeat and GIGA Hamburg on NBC GIGA, NBC Europe's interactive youth station that was awarded with the Grimme Online Award.
As  lead editor and freelance author, Frauke Schlieckau worked for numerous well-known clients in the corporate content sector and wrote several travel books for major German publishing houses.
Frauke Schlieckau studied art history, German literature and theatre studies at the Freie Universität Berlin and the International University of San Servolo in Venice and was awared a PhD in Berlin. She graduated as a state-certified press officer (DPRG) at the PR Plus Institute in Heidelberg and holds an MBA Essentials Certificate from the London School of Economics (LSE) and a Arts & Heritage Management Certificate from the Università Commerciale Luigi Bocconi.
Interviews (selection):
Culture: Willem Dafoe, Isabella Rossellini, Siri Hustvedt, Wim Wenders, Liam Gallagher, Mary J. Blige, Jamie Hince & Alison Mosshart, Moderat, Bob Geldof, Ebony Bones, Eric Burdon, Jonathan Safran Foer, Jérôme Bel, Sharon Eyal, Naomi Klein, Adam Green, August Diehl,
Art: Ai Weiwei, Olafur Eliasson, Katharina Grosse, Tino Sehgal, Elmgreen & Dragset, Douglas Gordon, Germano Celant, Ragnar Kjartansson, Michael Armitage, El Anatsui, Harland Miller, Yinka Shonibare, Massimiliano Gioni, Ralph Rugoff, Michelangelo Pistoletto, Neil Beloufa, Pamela Rosenkranz, Oda Jaune, Julian Charrière, Julius von Bismarck
Filmography:
Documentaries:
Caspar David Friedrich a Wanderer between the worlds. A film by Nicola Graef and Frauke Schlieckau. 52 min. Arte (in production)
Climate Change in the arts. 52 min. Schweizer Radio und Fernsehen (SRF)
Forever Bicycle. The bicycle in art and pop culture. 26 min. Arte, 2018
Arte Re: The pleasure of flesh. Europe's butcher revival. A film by Frauke Schlieckau and Lutz Ehrlich. 30 min. Arte, 2017
Short Documentaries (selection):
Metropolis Report Turin: Visiting Italy's capital of contemporary art. Arte Metropolis
Metropolis Report Athens: The Greek capital in front of the Documenta. Arte Metropolis
Metropolis Report London: Following William Shakespeare's footprints. Arte Metropolis
Metropolis Report Naples: Culture professionals fight against the Mafia. Arte Metropolis
Metropolis Report Milan: Is the Lombard capital ready for the Expo? Arte Metropolis
Metropolis Report Lisbon: With art from the crisis. Arte Metropolis
Short films:
Siri Hustvedt and Katharina Grosse on the significance of women in art. Arte Metropolis
Portrait of Douglas Gordon. 3Sat Kulturpalast
Ai Weiwei and "The Human Flow". 3 Sat Kulturpalast
Portrait Liam Gallagher. 3Sat Kulturpalast
Hard Stop. Arte Tracks
Portrait Francesco Vezzoli. Deutsche Welle
Portrait Elmgreen & Dragset. Deutsche Welle
On tour with the Peaceboat. Arte Yourope
Free holidays in Europe. ZDF Today in Europe
Obituary to Michael Jackon. ZDF Aspekte
The Bauhaus in Tel Aviv. Swiss Television
Concert formats (selection):
Berlin Live with Eric Burdon, The Kills, Bob Geldof, Texas, Moderat, Suzanne Vega, Stereophonics, Kaiser Chiefs, Block Party, MGMT, Patrice and many more. Arte
The Arte Lounge from the European Parliament in Strasbourg. Arte