BMW ART GUIDE BY INDEPENDENT COLLECTORS
The global guide to private, publicly accessible collections of contemporary art, revised and extended by numerous illustrations, 31 new collections, and useful addresses. The revised and extended BMW Art Guide by Independent Collectors presents nearly 300 private collections of contemporary art accessible to the public — featuring large and small, famous and the relatively unknown.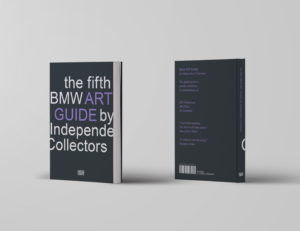 Succinct portraits of the collections with countless color illustrations take the reader to more than forty countries, often to regions or urban districts that are off the beaten path. Frauke Schlieckau was one of the authors.
Art is precious — topics such as its protection and conservation therefore raise complex questions. Although these topics are covered in art magazines as well as online, those stories are rarely aimed directly at art collectors. This is why Allianz has created the Allianz Art College and won the Independent Collectors Internet platform as a partner for this initiative. With a high degree of in-depth content, it addresses topics that collectors should pay attention to, regardless of their size.
The platforms experts have now addressed and compiled selected topics in the 108-page reader "What collectors should watch out for". Frauke Schlieckau was one of them.
PHILIPPE PARRENO: QUASI-OBJECTS AT GALERIE ESTHER SCHIPPER
Quasi-Objects is Philippe Parreno's seventh solo exhibition with the gallery. Philippe Parreno has often placed his works within the philosophical framework of 'quasi-objects'—objects whose existence is inseparable from the relationship to the context in which they are exhibited. Parreno presents a selection of objects that have appeared since 1992, that span his practice and now reappear within a new setting, their relationships with each other, and therefore their existence, markedly altered. The speculative concept of the 'quasi-object' is one that seeks to radically redefine the relationship between the subject and the object.
An exhibition documentation for Studio Philippe Parreno & Esther Schipper.
Further examples and references on request: fs@bottegaberlin.com